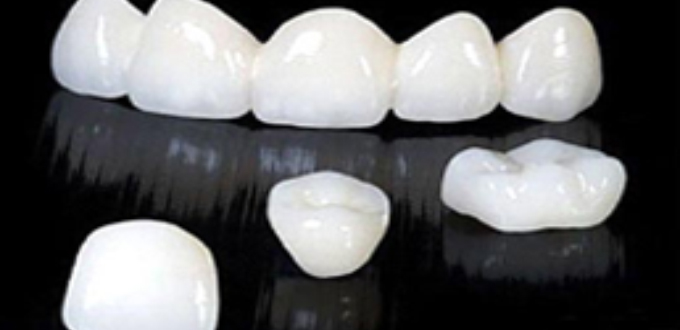 1. PORCELAIN METAL: 
Porcelain-metal (Chrome- cobalt, nickel-chromium, nickel-chromium-titanium, etc.) crown: Advantages include low cost, stability, and good for bridgework due to the steadiness of metal, loaded. However, the metal underlying line is oxidized over time causing discoloration and is also sensitive to hot/cold foods/drinks as metal is temperature sensitive.

Dental porcelain with metal frame 
Porcelain-precious metal crown (gold, platinum, palladium, etc.): Gold is usually used and it has several advantages over porcelain teeth. Gold is strong in thin section and less tooth needs to be drilled away before taking the impression and fitting the crown. It shrinks less when cast and is easier to polish. However, precious metals mean high costs.

Dental porcelain-precious metals 
2. ALL PORCELAIN (OR NON-METAL PORCELAIN CROWN):
There are 4 types of Non-metal porcelain crown which have been using at our clinic:
Nano Emax (Ivoclar Vivadent) offers the fit, form, and function which is expected from pressed ceramics. In addition, they offer improved flexural strength (400 Mpa). With optimized esthetic properties creating all-ceramic restorations that offer true-to-nature results, Nano Emax is usually used for front teeth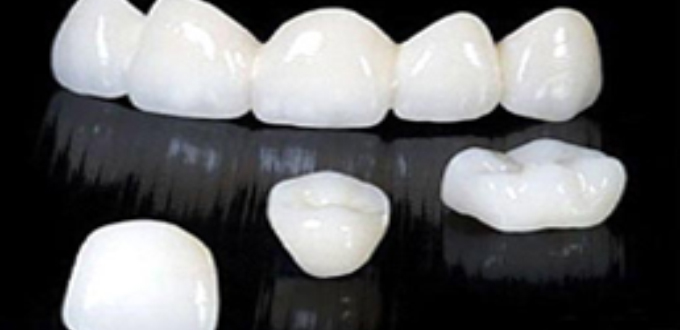 Full Zirconia (IdentAlloy/IdentCeram) ideally combine the PRESS and CAD/CAM technique. Take advantage of the accuracy of fit as well as the strength of zirconium oxide-reinforced restorations. Because of the incredible strength and minimum teeth structure removal, Full zirconia is usually used for back teeth.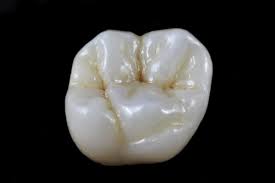 Cerabien Zr (Noritake) is new porcelain for making all ceramic crowns for use with zirconia frameworks. Single crowns made from Cerabien ZR (CZR) with zirconia can be used in the posterior as well as anterior due to its extremely high flexural strength. The combination of Cerabien ZR (CZR) and zirconia will give you enhanced esthetics and fit with maximum strength for an overall superior restoration.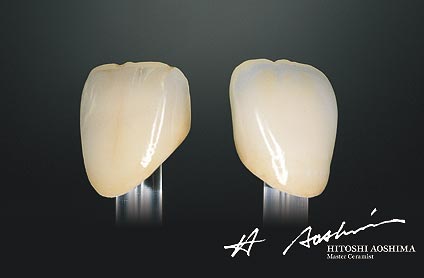 VITA PM 9 (Pressable Material) is a pressed ceramic and based on the fine-structure veneering ceramic. VITA VM 9 has proved its reliability in millions of restorations. VITA PM 9 covers a wide range of indications. It is suitable for the substructure-free staining and layering technique (inlay/onlay, veneer…)
All-ceramic or all-porcelain dental crowns provide better natural color match than any other crown type and may be more suitable for people with metal allergies.
A majority of all ceramic crowns are produced using CAD/CAM technology which is based upon 3D design, which helps to achieve almost-perfect crown fitting. CAD/CAM technology is commonly used in crown designing, dental implant planning, and placement.
Our doctors will advise you on which type of porcelain to use, based on the location of your missing teeth, your needs, and conditions such as dental porcelain would be the best choice for front teeth, porcelain-metal would be a more reasonable choice for molars.
We are using only the best brand porcelain material at our Lab in-house made by CAD/CAM technique to provide the best quality for a perfect smile.
We can complete the porcelain crowns within 24 hours with 10 years warranty at our dental center.
At Dr. Hung & Associates Dental Center, you will be satisfied with 5-Star International Dental service standards: professional team, advanced equipment, lab in-house with CAD/CAM technique, highest quality warranty policy, relaxing space and the "Attentive – Gentle – Careful" service which will give you the perfect treatment result.
For more information please contact:
DR HUNG & ASSOCIATES DENTAL CENTER