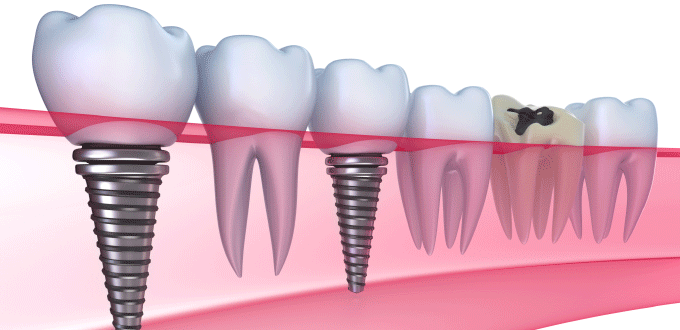 Despite improvements in dental care, millions of Americans suffer tooth loss — mostly due to tooth decay, periodontal disease, or injury. For many years, the only treatment options available for people with missing teeth were bridges and dentures. But, today, dental implants are available.
What Are Dental Implants?
Dental implants are replacement tooth roots. Implants provide a strong foundation for fixed (permanent) or removable replacement teeth that are made to match your natural teeth.
What Are the Advantages of Dental Implants?
There are many advantages to dental implants, including:
Improved appearance. Dental implants look and feel like your own teeth. And because they are designed to fuse with bone, they become permanent.
Improved speech. With poor-fitting dentures, the teeth can slip within the mouth causing you to mumble or slur your words. Dental implants allow you to speak without the worry that teeth might slip.
Improved comfort. Because they become part of you, implants eliminate the discomfort of removable dentures.
Easier eating. Sliding dentures can make chewing difficult. Dental implants function like your own teeth, allowing you to eat your favorite foods with confidence and without pain.
Improved self-esteem. Dental implants can give you back your smile and help you feel better about yourself.
Improved oral health. Dental implants don't require reducing other teeth, as a tooth-supported bridge does. Because nearby teeth are not altered to support the implant, more of your own teeth are left intact, improving long-term oral health. Individual implants also allow easier access between teeth, improving oral hygiene.
Implants are very durable and will last many years. With good care, many implants last a lifetime.
Removable dentures are just that; removable. Dental implants eliminate the embarrassing inconvenience of removing dentures, as well as the need for messy adhesives to keep them in place.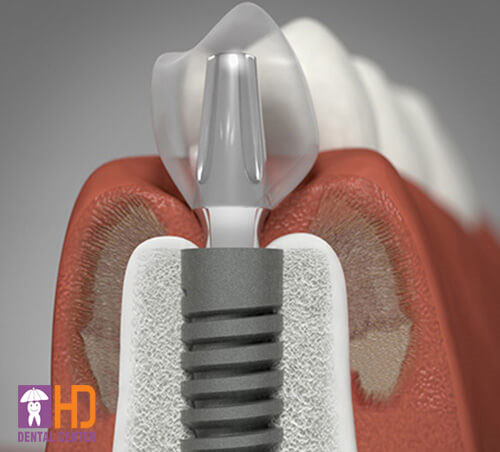 How Successful Are Dental Implants?
Success rates of dental implants vary, depending on where in the jaw the implants are placed but, in general, dental implants have a success rate of up to 98%. With proper care (see below), implants can last a lifetime.
Can Anyone Get Dental Implants?
In most cases, anyone healthy enough to undergo a routine dental extraction or oral surgery can be considered for a dental implant. Patients should have healthy gums and enough bone to hold the implant. They also must be committed to good oral hygiene and regular dental visits. Heavy smokers, people suffering from uncontrolled chronic disorders — such as diabetes or heart disease — or patients who have had radiation therapy to the head/neck area need to be evaluated on an individual basis. If you are considering implants, talk to your dentist to see if they are right for you.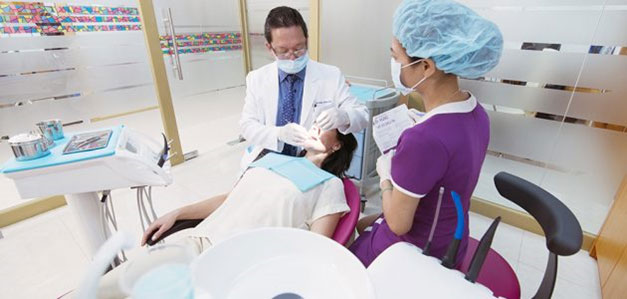 What Is Involved in Getting a Dental Implant?
The first step in the dental implant process is the development of an individualized treatment plan. The plan addresses your specific needs and is prepared by a team of professionals who are specially trained and experienced in oral surgery and restorative dentistry. This team approach provides coordinated care based on the implant option that is best for you.
Next, the tooth root implant, which is a small post made of titanium, is placed into the bone socket of the missing tooth. As the jawbone heals, it grows around the implanted metal post, anchoring it securely in the jaw. The healing process can take from six to 12 weeks.
Once the implant has bonded to the jawbone, a small connector post — called an abutment — is attached to the post to securely hold the new tooth. To make the new tooth or teeth, your dentist makes impressions of your teeth, and creates a model of your bite (which captures all of your teeth, their type, and arrangement). The new tooth or teeth is based on this model. A replacement tooth, called a crown, is then attached to the abutment.
Instead of one or more individual crowns, some patients may have attachments placed on the implant that retain and support a removable denture.
Your dentist also will match the color of the new teeth to your natural teeth. Because the implant is secured within the jawbone, the replacement teeth look, feel, and function just like your own natural teeth.
How Painful Are Dental Implants?
Most people who have received dental implants say that there is very little discomfort involved in the procedure. Local anesthesia can be used during the procedure, and most patients report that implants involve less pain than a tooth extraction.
After the dental implant, mild soreness can be treated with over-the-counter pain medications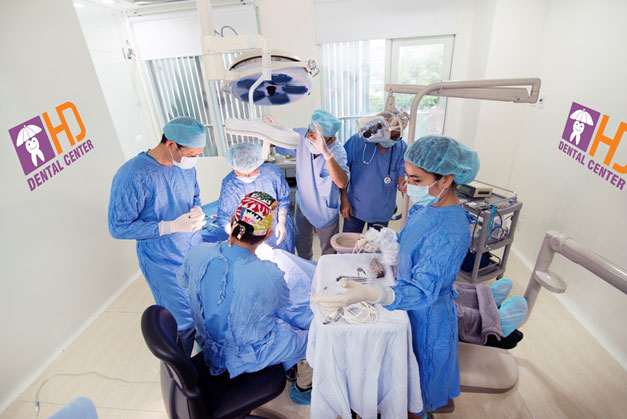 Why should you choose Dr. Hung & Associates Dental Center for your Dental implant placement?
Dr. Hung & Associates Dental center covers all international standards for a successful dental implant treatment:
Our specialized doctors team with many years of Dental Implant experienced, leading by Dr. Do Dinh Hung, Ph.D, are the pioneering team in Dental Implant placement, and prosthesis on implants, has thousands cases done, with the success rate up to 98%
Our Department of Diagnostic Imaging will provide you with 3D Cone-beam CT Scan preoperatively, with a "virtual" surgery performed in a special software, will show you the optimal position and number of implants needed, as well as the result before starting. "Begin with the end in mind" is our attitude towards treatment.
Operating rooms with sterilization standards offer a microbial-free environment, to prevent infection post-operatively, thus will accelerate the healing process.
With the use of high-quality dental implants systems from US & Europe, we are proud to present a warranty for dental implants placed in our clinic, as follow:
Lifetime warranty for dental implants from Nobel Biocare, Straumann and Biohorizons systems
10 years warranty for dental implants from Tekka, MIS and Dentium systems
10 years warranty for all-ceramic teeth on implants manufactured at our In-house Dental Laboratory
What is the cost for Dental implant treatment at Dr. Hung & Associates Dental Center?
DENTAL IMPLANTS:
USD
AUD
EUR
Implant toàn sứ – Zirconia Implant
1700-2000/implant
2210-2600/implant
1520-1790/implant
Straumann
1500-1700/implant
1944-2203/implant
1341-1520/implant
Nobel BioCare
1500/implant
1944/implant
1341/implant
BioHorizons
1400/implant
1814/implant
1251/implant
Tekka
1200/implant
1555/implant
1072/implant
Mis
1100/implant
1425/implant
984/implant
Over-denture on 2 implants
+ 2 Implants
Depend on implant brand
+ Bar + Denture on implant
2800$/jaw
Over-denture with magnetic attachment
2800$/jaw
+ 2 Implants
1100$/implant
+ Magnetic attachments + Denture on implant
1950$/jaw
DENTAL IMPLANTS
DENTAL IMPLANTS:
Zirconia Implant- Non Metal Implant
1700-2000/implant
2210-2600/implant
1520-1790/implant
Straumann
1500-1700/implant
1944-2203/implant
1341-1520/implant
Nobel BioCare
1500/implant
1944/implant
1341/implant
BioHorizons
1400/implant
1814/implant
1251/implant
Tekka
1200/implant
1555/implant
1072/implant
Mis
1100/implant
1425/implant
984/implant
Over-denture on 2 implants
+ 2 Implants
Depend on implant brand
+ Bar + Denture on implant
2800$/jaw
Over-denture with magnetic attachment
+ 2 Implants
1100$/implant
+ Magnetic attachments + Denture on implant
1950$/jaw
Discover the difference at Dr.Hung & Associates Dental Center that can give you the perfect smile
244A Cong Quynh Str., District 1, HCM City
HOTLINE: (028) 39257526 – 0914 900 016